In an Emergency, always call 9-1-1
For non-emergencies: (613) 267-2626
O.P.P. Lanark County, 75 Dufferin St, Perth, ON K7H 3A5
Policing in the Township of Lanark Highlands is provided by the O.P.P. on a contractual basis. At present, approximately 85% of costs are related to salaries. The Ontario Provincial Police Association (OPPA) negotiates with the Provincial Government in determining OPP salaries. Costs related to individual municipalities are, at present, calculated by the number of officers per municipality which is generally determined by the calls for service within the municipality. At present, Lanark Highlands enjoys one of the lowest rates in policing in Lanark County.
Reduce Aggressive Driving
This includes failing to stop for stop signs, speeding and following too close. In addition, too many drivers are still talking on cell phones and using blackberries while operating their vehicles!
Seatbelt Compliance
37% of our serious accidents involve occupants not wearing seatbelts. We will be making every effort to reduce this number, and it will involve both enforcement and education.
Property Crime Reduction
Thefts, Break and Enters and Mischief's are a crime of convenience. We have established a formidable plan to reduce these offences.
Illegal Drug Use
We have developed solid strategies to meet the Drug Use Issues, and will reduce the use of illegal drugs.
Marine (Snow Vehicle Patrols)
Our Detachment will be visible on the Lakes and Trails ensuring everyone enjoys the safe use of recreational vehicles.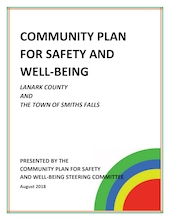 Community Plan for Safety and Well-Being
Starting a Neighbourhood Watch Program in Lanark Highlands Township
Neighbourhood Watch is a program aimed at reducing crime in the community. It involves getting to know one's neighbours and introducing them to the concept of Neighbourhood Watch – that is, good neighbours working together, alert to the potential of crime and willing to look out for one another's interests. Neighbours working together through Neighbourhood Watch can combat crime in their area the most effective way – before it starts.
Neighbourhood Watch provides a means of reducing the opportunity for crime to occur, through the active participation of citizens in crime prevention. Citizens are taught how to make their homes less inviting as a target for thieves; how to participate in Operation Identification, making their personal property less desirable to burglars; and how to be alert to suspicious activity in their neighbourhoods.
Very few people are in a position to protect their homes and property all of the time. Vacation, business, and shopping trips, or even an evening out will leave homes unattended and vulnerable to theft. The Neighbourhood Watch program will provide a sense of security for individuals or families who leave their homes for any length of time. The program will also help to co-ordinate the efforts of the police and the community in tracking down criminals. Strong community involvement is encouraged because neighbourhood unity can deter crime. Neighbours joined together do help correct situations that threaten their peace and safety.
So…how can you start one in your neighbourhood? Start by canvassing your neighbours to find out which households in the area are willing to participate. Once these households have been identified, the Lanark County OPP is more than willing to attend and provide a Neighbourhood Watch presentation focusing on securing your home / property, Operation Identification, and reporting suspicious activity. Upon completion of the presentation, homeowners are provided Neighbourhood Watch decals for their windows and doors.
If interested in starting your own Neighbourhood Watch program, please contact the Lanark County OPP at 613-267-2626 between 8:30 a.m. and 4:00 p.m. and ask for the Community Service Officer.