If you are thinking about a construction or renovation project, we recommend that you contact our office early on in your planning so that we can help identify the steps and rules you will need to consider. Doing so will enable you to avoid costly delays and disappointments down the road. (Making an appointment is recommended).
When do you need a building permit?
Any free standing structure over 108 sq. ft. including farm structures
Any additions to existing structures of any size including farm structures
Renovations both residential and commercial / other renovations or alterations
Plumbing/Alterations to plumbing
Decks
Swimming pools, above or under ground
Solid fuel burning appliances
Demolitions
The Building department has information packages available upon request for various types of building projects. These packages include the required information and cost to obtain a building permit, a list of the required inspections, and the application form.
Planning Review
Prior to issuance of a building permit your project will undergo a planning review to ensure compliance with the Zoning By-Law and Official Plan. It is a legal requirement that all applicable law be addressed before a building permit is issued.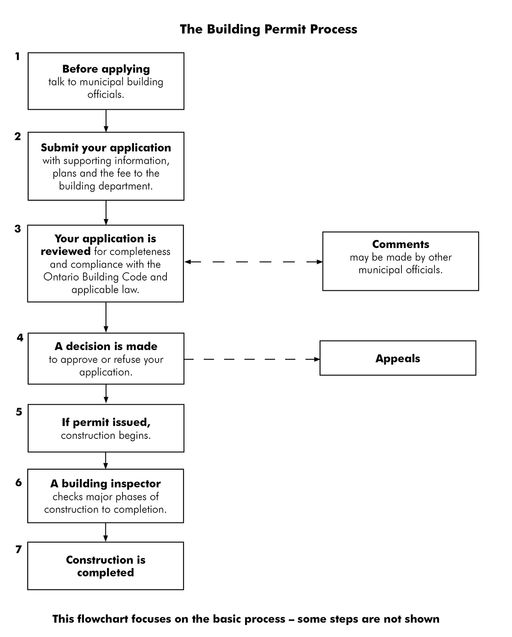 Classes of Builidng Permits/Permit Fees
Living Areas
Single Detached Dwellings & Additions
$0.55/sq.ft. (Min. $60)
Living Areas Security Deposit

Single Detached Dwellings

$500

Minor Additions

$200
Non-Living Areas
(garage, shed, deck, etc)
$0.25/sq.ft. (Min. $60)
Mobile and Modular Homes
$0.30/sq.ft. (Min. $60)
Basements (finished or unfinished)
$0.25/sq.ft. (Min. $60)
Renovations
1% of construction value
(Min. $60)
Solid Fuel Burning Appliance
$65 flat fee
Demolition
$60 flat fee
Plumbing
$50 flat fee
Multi-Residential
$0.60/sq.ft. to 2,000 sq.ft. (Min. $60)
$0.30/sq.ft. over 2,000 sq.ft.
Multi-Residential Security Deposit
$1,000
Swimming Pools
$70 flat fee
Industrial / Commecial / Institutional (ICI)
$0.20/sq.ft. (Max. $500)
ICI Security Deposit
$1,000
Agricultural
$60 flat fee + 25% of cost (Max. $500)
Agricultural Security Deposit
$200
Occupancy Permit
$60 per application
Revision to Building Permit
Same as building permit (Min. $60)
Permit Renewal
$60 per application
Permit Transfer
$60 per application
Change of Use Permit
$60 + 1%/thousand over $5,000 value
A Building Permit and the associated inspections ensure that your project is in compliance with the Ontario Building Code. Not only is this your best protection from future liability associated with unsafe construction practices but is a legal requirement.
The Leeds Grenville Lanark District Health Unit (1-800 267-7918) must be contacted to determine the septic requirements for all new single family dwellings and most additions to existing dwellings.
Septic Tank Maintenance is Your Responsibility
Septic systems require maintenance. As a property owner, it is your responsibility to have your septic tank maintained and pumped out on a regular basis. Studies have shown that routine pumping of a septic tank is necessary for proper performance and treatment of wastewater. Faulty systems may lead to costly repairs and the compromise of water quality and public health.
If you have not had your septic tank pumped out within the last 3-5 years, please act responsibly and hire a licenced septic tank hauler to pump out your tank.
Routine pumping will provide you with the peace of mind knowing that your septic tank is in good working order and capable of handling additional wastewater from your home.
Further information can also be obtained by contacting your local Leeds, Grenville & Lanark District Health Unit Office
An entrance permit must be in place either from the County of Lanark or the Township of Lanark Highlands Public Works Department prior to the issuance of a building permit. Final inspection of the entrance permit must be completed before occupancy is permitted in new construction projects.
Entrance Permit and Costs
Entrance Permit -

$100

Entrance Permit if culvert is required and owner installs -

$200

Entrance Permit if culvert is required and township installs -

$1,000
Civic Address & Post Application and Costs
Civic Address Sign & Post

$84.75 (includes HST)

Replacement Sign only

$39.55

Replacement Post only

$50.85